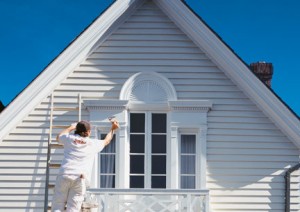 Is the outside of your house looking dingy, with peeling paint, would you like us to give you an exterior painting quote?
A great exterior paint finish can make your home stand out from your neighbors and boost your resale value. The exterior finish is also important for protection against the elements.
Preparation is the most important step towards ensuring a beautiful and long-lasting exterior paint job.
Our exterior painting services include the following:
Painting
Siding (Vinyl, Fiber Cement, Insulated)
Fascia boards and timber works
Window reveals and window frames
Doors and entrances
Garage doors and walls
Gutters and downpipes
Balconies and verandas
Fences and boundary walls
As part of your painting service, we:
Repair nail pops, cracks and dings
Clean and Prep your trim and other exterior surfaces
Fill Seams and Joints
Caulk windows and other exterior joints
We can achieve a great finish in days, when it would take you weeks
What sets us apart?
Dependable services
Experienced
Full Preparation, Repairs & Clean-up
Full Licensing, Bonding, Insurance, and Warranty
FREE colour consultations
Free Quotes
Quality Control
Supervision & Inspection
Competitive Pricing
Top Quality and total Reliability
We can handle all jobs, big or small, and we offer painting services for both interior and exterior residential and commercial. Contact us on 0425 230 448 Today!

Exterior Painting Services